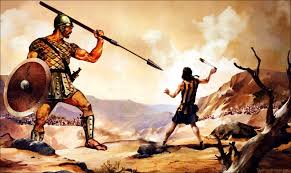 The world has many philosophies, religions, ideologies, and other systems of thought, each with adherents who have strong beliefs. What distinguishes one from another? At the end of the day, each "ism" or "ity" has a certain set of fundamental beliefs and assumptions that underlie the belief structure. If you take one or more of these away, the "ism" tends either to fall apart, or at least become less distinguishable from others. Nothing surprising about that. So it should come as no surprise that anyone who embraces a particular belief structure wants to "draw a line in the sand" when it comes to the veracity of those fundamental beliefs and assumptions.
Christianity is certainly no exception to this. So you may ask, what are the fundamental beliefs of Christianity of the "draw a line in the sand" variety? What makes Christianity different from any other religion, philosophy or belief structure? When asked that question, many Christians, especially the more evangelical ones, say, "the Bible is the revealed word of God and is completely true." Not necessarily a bad answer, except that non-Christians also believe certain things about the Bible are true. For example, Jews believe the entirety of the Old Testament is correct. Muslims also strongly believe many parts of the Bible, including parts of the New Testament, are true. For example, the story of Jesus feeding the 5,000, found in the New Testament, is also an important story in the Muslim Koran.
Of course, with the possible exception of Messianic Jews, neither Muslims nor Jews think of themselves as Christian. Thus, there must be parts of the Bible that most Jews, all Muslims, and adherents of other religions (or no religion at all) don't accept. It would be at least some of these sections that make Christianity unique. These, I maintain, are the "line in the sand" doctrines for Christians. So what are they?
If you listen to what many Christian churches, particularly more evangelical ones, have been saying lately, you wouldn't be far wrong if you arrived at the following as the "line in the sand" issues:
God created humans in a special way, different from all other creatures and species, in a manner that is inconsistent with Darwin's theory of evolution by natural selection;

Homosexuality is one of the worst kinds of sins, and is to be abhorred.
These are very strongly and sincerely held beliefs for many, maybe even most, Christians, but are these the real "line in the sand" issues for Christians to defend? I think not. Let me explain why.
Consider, first, the idea of a "special creation" of mankind. Well, some other religions believe the same thing. Historically, even Deists believe this. Deists generally believe that God created the heavens and the earth, but acts like the watchmaker who has created an incredible masterpiece that runs on its own, and is content to sit back and watch it operate. Christians, especially evangelical ones, strongly reject the Deist narrative, believing that God is active in the world to this day. So the notion of "special creation of humanity by God" is not unique to Christianity because adherents of other religions many times believe the same.
Same with beliefs about homosexuality. Many other religions reject it, most notably, Muslims. Many evangelical Christians might be surprised to learn that Muslims have very similar views about homosexuality, viewing it as a sinful choice that individuals make.
If that's the case, then even though many Christians have very srong beliefs about these issues, neither of these can be "line in the sand" doctrines that distinguish Christianity from other religions. Instead, I believe it has something to do with Jesus. Let's consider what it is.
It isn't that Jesus was an historical figure. People of all beliefs tend to agree with that. Moreover, people of pretty much all faiths, and atheists or non-theists with no faith at all, believe Jesus was not only a good person, He was a model for others to follow. Muslims and Jews don't disagree about this. Atheists are the same. Without a doubt, if pressed on the matter, the prominent atheist Richard Dawkins would say he admires Jesus.
What all of these non-Christians, however, don't say about Jesus is a belief that He was sent by God the Father to Earth. Instead, non-Christians generally think of Jesus as a profound, even prophetic, person with many very admirable qualities, but not someone who is the Son of God.
Christians, on the other hand, accept what Jesus said in the Bible especially in the Book of John, namely that He is the Son of God who was sent by God the Father with a very specific purpose. What, then, are those things that provide a unique viewpoint for Christians about Jesus?
One can make an argument that it comes down to two things:
Original sin

The inability of mankind to overcome sin.
Original sin is the idea that the very first humans sinned against God, and the sinful nature of those original humans has been somehow transmitted to every subsequent human. It is a stain affects every human.
Both Jews and Muslims accept the idea that the original humans sinned against God, but their views are somewhat different. Jews believe that humans do sin, but they do so by choice, not so much that it is an innate part of their natures. Muslims tend to believe that after the original humans sinned, God immediately forgave them but also admonished them to avoid sin in the future. According to the Koran, one can avoid sin by remaining in a state of submission to God, practicing the Five Pillars of Islam (i.e., faith, prayer, charity, fasting, and at least one pilgrimage to Mecca). Other religions believe in the idea of sin, but no other ones that I know of believe in the twin ideas that mankind is inherently sinful and that humans cannot somehow either overcome or avoid sin on their own.
Which brings us back to the "why" for Jesus. Christians believe that Jesus came to Earth, simultaneously fully human and fully God, with the purpose of dying as an atonement for the sin of mankind, then rising from the dead. Beyond that, the risen Christ serves as the way to overcome sin. It isn't done through any particular actions taken by the person, simply through faith that Jesus Christ is the route to salvation.
The "why" of Jesus set forth above is something that Christians of all sorts can agree. Of course, there are other important things, but I would argue that these are the most basic, most distinctive doctrines of Christianity. If you take these away, you no longer have Christianity. My argument then is that if Christians want to "draw a line in the sand" – and at certain times, we should – this is the place to do it. Conversely, drawing the "line in the sand" on "special creation" and homosexuality really doesn't make sense because those are not essential doctrines of Christianity.
Why do I say those are not essential doctrines of Christianity? "Special creation" is not an essential doctrine because one can easily construct a narrative that includes original sin and the imperfectability of mankind but leave out "special creation". How? Creation through the process of evolution by natural selection, started and controlled by God, provides an excellent explanation of creation. Moreover, it fits both what the Bible says and modern scientific data. The key act of God was not how He created humankind, it was His response to the emergence of sin in the original humans. Christians believe that God's response to original sin and human imperfectability was to send Jesus.
The belief that homosexuality is both a choice, and is a sin, is also not an essential doctrine. As noted above, it is not a unique Christian doctrine. One can believe in the doctrine as a devout Muslim, for example, so it can't possibly be a core Christian concept. Please understand, I am not saying anything about the acceptability or wrongness of homosexuality, merely that it is not a core Christian doctrine.
Given these arguments, what am I trying to say? Simply that if Christians want to be real defenders of the faith, we should focus attention on the things that make Christianity unique. Those, I believe, are also the things that serve to make Christianity compelling. If we're going to draw a line in the sand, let's draw it at the right place.
How, then, should Christians go about this task? Of course, by placing reliance upon the Bible. However, what happens when Christians encounter people who honestly and sincerely believe Christians are mis-interpreting the Bible, or who even believe the Bible is rubbish? Is there something beyond the Bible that could back up these "line in the sand" arguments Christians make about Jesus?
I believe the answer is "yes". Ironically, it's the least likely place many Christians would ever go: Charles Darwin's theory of evolution by natural selection.
Briefly, Darwin provides Christians the following:
An excellent way to explain the source of original sin, and why humans possess it, in contrast to other species; and how it is transmitted from one generation to the next;

A way to explain why humans cannot by themselves avoid or overcome their sinful natures.
Thus, if Christians really want to "draw a line in the sand" that distinguishes what we believe, the very best way to do that is to consider (or re-consider) what we think about Charles Darwin's theory of evolution by natural selection.
Thank you for reading!
If you like this, consider subscribing to my blog. Please share it with your friends and family.