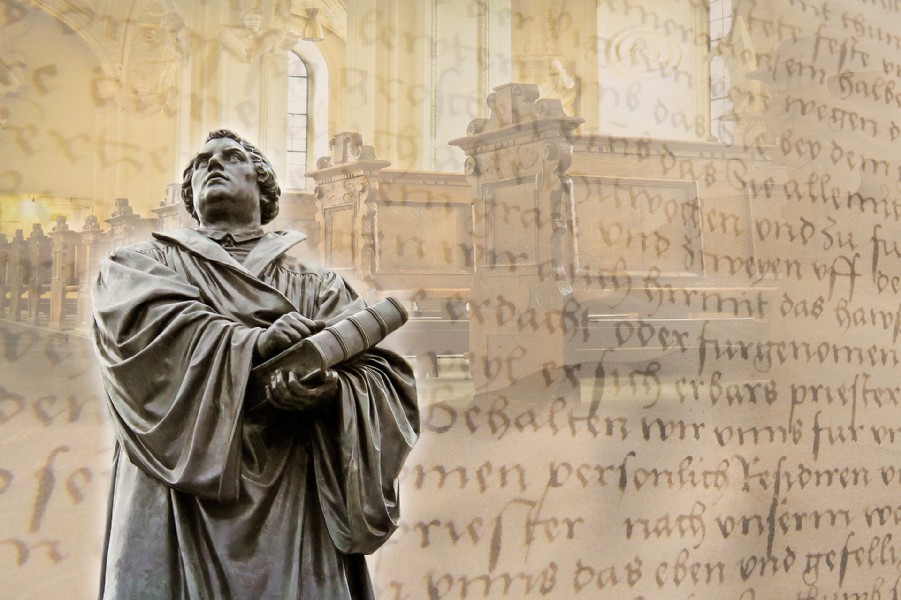 Halloween this coming October will include the usual door to door trick or treating, as well as parties, to which we've all become accustomed. This year, however, will include an additional, quite unusual celebration: the 500th anniversary of Martin Luther nailing his famous 95 Theses to the door of the church in Wittenberg, Germany.
Luther's "theses" were complaints to the Roman Catholic Church about the practice of selling "indulgences". Christians in the early 16th century would make a payment to the church in return for the priest to intercede on the person's behalf with God, providing forgiveness for some sin the person had committed. The Roman Catholic Church claimed it was good theology, and historians tell us it was also a very big business. In fact, it's been reported that the German banker Jacob Fugger made a fortune in financing the sale of indulgences. Luther, an Augustinian monk, was incensed by this practice, and made a formal protest by nailing the 95 Theses to the church door. One thing led to another and soon the Reformation was underway, forever splitting Protestant churches away from the Roman Catholic Church.
As Halloween, 2017 will be the 500th anniversary of Luther's act, numerous celebrations and commemorations will occur around the world. One I've read about this week is by the 1517 Fund. In commemoration of Luther's anniversary, the 1517 Fund is seeking to create a latter day set of 95 Theses, focusing on what it calls "America's modern day religion – higher education." In fact, the fund is soliciting ideas for how higher education might be radically reformed, much as Luther called the faithful to reform the Roman Catholic Church in 1517.
Much of the focus of higher education reform is on its high cost, as well as the resultant mountain of student debt, which presently is greater than credit card debt in the USA. This is certainly a huge problem, but I'd like to focus on some other serious problems in higher education. As a nation, we're spending exorbitant sums on higher education, yet complaints about the lack of preparation of graduates are as loud as ever. The 1517 Fund is soliciting additions to its latter day "95 Theses" list, so let me offer two of my own "theses". Why am writing about a subject such as this? Well, there's clearly a need for innovative thinking on the subject.
Thesis #1: Let's create a modern day apprentice system by utilizing the power of MOOC's and the Khan Academy, but apply it to businesses.
Employers everywhere are constantly complaining that the graduates they hire are ill prepared. In many cases, graduates seem to have serious deficiencies in communication skills. They often can't write very well, and they also often can't speak clearly and articulately. At the same time, there's an ongoing problem of providing good skills training programs. Some think American companies ought to adopt German style apprentice programs. Those programs are often highly effective, but they're very expensive, especially for smaller enterprises.
Here's my idea: 1) get universities and other education providers to create short courses, much as Khan Academy does for grade schools and high schools, but focused on employees in companies; 2) encourage companies to allocate one hour/day to these programs. Here's how it might be put into practice.
Khan Academy takes a subject such as calculus and breaks it down into short, bite-sized classes that can be watched online. The student might watch the program during class, then do the homework at night. Alternatively, one might ask the student to watch the program at home, then devote class time to working through the problems. My idea is to use the very same system, but for subjects relevant to a business.
The work of acknowledged experts such as Anders Ericsson of Florida State University shows that the best way to learn something is to dedicate about 60 to 90 minutes at a time. Beyond that amount of time, the mind simply can't absorb more without a good break. If that's the case, then why not suggest that the employer block out 60 to 90 minutes each work day for continuing education purposes?
Yes, I know, the immediate response will be, "we don't have enough time to get our work done now, so how can we give up that time?" My argument is that if proper training is provided, employee productivity will increase, possibly dramatically. The task of training and skills development is broken down into ideal length increments, at least according to cutting edge research. So imagine that a company adopts this approach on a daily basis? The employee will now be spending only 6 ½ hours on regular work and 1 ½ hours on education. Will the average employer really miss the 90 minutes of work activity? My best guess is, no, especially if you take everyone's mobile phone away for the 90 minute period. If anything, the other 6 ½ hours of regular work will become more productive because the employee is learning relevant skills, the very skills the typical employer says have been missing.
What will this approach cost? If a Khan Academy or university based MOOC (massively open online course) is employed, the cost of curricula should be far less than if the employees are sent to a traditional off site training program.
Thesis #2: Let's apply the wisdom of the X Prize to a broad range of problems related to higher education effectiveness.
Most everyone has heard of Charles Lindbergh. Lindbergh's most notable accomplishment was to make the first non-stop plane flight from New York to Paris. He made his historic flight in 1927. While such a flight is not the least bit noteworthy today, it bordered on the unthinkable and unimaginable in the 1920's. Lindbergh was merely one of many trying to accomplish the feat, spurred on in part by the opportunity to win a $ 25,000 prize from the French hotelier Raymond Orteig. That same prize would be worth about $ 341,000 in today's dollars, so there was definite incentive.
The Orteig Prize served as the inspiration in the 1990's for the creation of the Ansari X Prize by entrepreneur Peter Diamandis. The winner had to launch the same rocket within a two week time period, something that seemed almost unimaginable in the early 1990's. After all, up until that time, rockets typically disintegrated after launch so they couldn't be reused. This time the prize was a check for $ 10 million USD. Twenty six teams entered the competition, which was won in 2004 by Mojave Aerospace Ventures. Once again, the seemingly possible was achieved.
The idea of the X Prize has spread to numerous other seemingly impossible ventures. Each X Prize is intended to foster three key goals:
Attract investment from outside the sector that takes new approaches to difficult problems

.Create significant results that are real and meaningful. Competitions have measurable goals, and are created to promote adoption of the innovation.

Cross national and disciplinary boundaries to encourage teams around the world to invest the intellectual and financial capital required to solve difficult challenges.
A quick perusal of the X Prize Foundation website shows the breadth of projects, all seemingly impossible. What strikes me is that while the prizes tend to have large payouts, they really aren't especially large at all. It simply shows that incentives such as these can spur incredible entrepreneurial activity.
So what does any of this have to do with Martin Luther and education reform? Well, please refer back to the X Prize "goals" list. The initial one, "attract investment from outside the sector that takes new approaches to difficult problems". This seems spot on to the whole issue of increasing the effectiveness of higher education. The other two goals fit exactly in, too. So how might this concept work? One simple way would be for the Federal government to create an incentive for very high net worth individuals to create such prizes. For example, imagine if one could get not just a charitable deduction but a tax credit for creating such a prize? The former is likely worth much more than the latter. Provision might be made that an independent organization such as the X Prize Foundation would have to oversee the project. A simple way would be for the tax credit to be offered only if the prize money is given to the X Prize Foundation. Critics will say that there will be abuse. There may be, but if properly constructed, the resulting benefits in at least a few cases will produce great benefits.
One way to think about this is if a portfolio of X Prize projects are created for a given field. By analogy, an angel investor will make investments in 20 different ventures. Most likely, at least half of the ventures will fail, and some of the rest will only provide a modest return. What the angel investor hopes is that 10% of the portfolio is hugely successful, thus providing a great overall return. Applying the same concept here, a portfolio of 20 different X Prizes in subjects related to higher education innovation might be created. Assume a group of individuals or companies contribute a combined $ 200 million to create 20 $ 10 million prizes. If two wildly successful wins result from this, the $ 200 million will be just a pittance. Other thing to keep in mind is that the prize money won't be touched until the goal is achieved. Thus, if the goal isn't achieved, nothing is really lost.
Martin Luther's 95 Theses did indeed spark a world changing revolution, one still being felt today. The 1517 Fund's commemoration of the 500th anniversary is a great idea. I've proposed two ideas that could be added to the list. No doubt, at least some readers of this will have other seemingly outlandish ideas. Luther's ideas were both outlandish and heretical to the powers that be in his day. We need more such ideas to deal with that modern form of religion, the institution of higher education.
Please share your own outlandish ideas for how higher education might be made more effective or more reasonably priced.