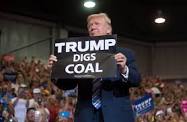 For many people, particularly environmental activists, the sky did really fall when US President Donald Trump took steps to gut the Clean Power Plan, the cornerstone environmental action of the Obama Administration. On its face, the action looks like a body slam to steps taken to limit coal use in electric generation. So if, like me, you're concerned about greenhouse gas emissions and global warming, what is the right response?
The first thing I say is, time to stop whining about it. The sky is not falling because of the Trump Administration's decision. Instead, read on for some practical things that can be done.
Does Federal policy on climate really make that much difference? I'm not so sure; and if it doesn't make that much difference, we should focus our attention on the things that really do make a difference.
President Trump took his action to help save coal. Scientific American reported that coal use was down 9% in 2016, the third year in a row that overall coal use has declined. A good example of this trend is Duke Energy, a major electric utility in the Southeast. Duke hs gone from 70% of electricity generated by coal in 2008 to 42% today. So let's first ask, why is coal consumption going down?
It's been declining for three key reasons: 1) Americans haven't been using as much electricity as before; 2) natural gas has become more competitive; and 3) alternative energy such as wind and solar have also become more cost competitive. While each of these factors is different, they share something in common: they're all about economics and have virtually nothing to do with Federal government policy.
So will Trump's new policy – gutting the Clean Power Plan – make a meaningful difference? Many experts say that the trend away from coal is going to continue, even though President Trump effectively gutted the Clean Power Plan.
So just why do I think Trump's decision will make a significant difference? One part of the argument has to do with the plans of electric utilities themselves. 26 of the 50 US states sued to stop the Clean Power Plan from being implemented. Presumably, these were the states controlled by Republican opponents of the Clean Power Plan, and skeptics of global warming. Reuters did a survey of the 32 electric utilities that operate in those 26 states. Here's what they told Reuters:
20 said the Trump order will have no impact on their plans to reduce coal usage

5 said they're reviewing the implications of the order

6 provided no response

Only 1 of the 20 said it would prolong the life of coal facilities.
Even if the other 11 who were non-committal end up responding in a way favorable to Trump, nearly two thirds said they wouldn't.
I think one can make the argument that the Trump action against the Clean Power Plan is more sound and fury that signifies nothing.
But what if I'm wrong? I readily admit, I could be completely wrong. So assuming I'm wrong about the impact of Trump's action on coal usage, let me suggest five practical things that can be done to continue, even speed up, the demise of coal. Some of these may be a bit unexpected, but that's a key objective of this blog: provide unexpected perspectives on issues. Here's what I think can be done:
#1: Promote Use of Fracking
Promoting fracking may turn a number of environmental activists off. I appreciate that, and I agree that fracking has environmental consequences, but promoting this in the short term makes great sense if your objective is to reduce greenhouse gases. If you think fracking stinks, please hold your nose for a just a moment while I explain my thinking.
Let's go back to the two key reasons why coal is a dying industry: 1) improving economics for wind and solar; and 2) natural gas is more cost competitive. The reason natural gas has become so cost competitive is because of the dramatic increase in supply in the USA. That's due to one thing – fracking technology. Admittedly, wind and solar are definitely more environmentally friendly that natural gas, but wind and solar cannot possibly replace coal the way that natural gas can, at least in the short term. So for the short and near term, natural gas is a great alternative to coal. Coal plants can be converted to natural gas, but you can't turn a coal plant into a solar or wind facility. While it produces greenhouse gases, too, the greenhouse gas impact of gas is substantially less than coal.
If you really don't like fracking, the next best alternative in the short term is to import liquefied natural gas, especially from places like Qatar. That however, has two huge disadvantages: 1) it worsens the balance of payments; and 2) it increases dependence on energy from the Middle East. In comparison, promoting domestic fracking is one of the two best strategies for reducing coal usage. The irony, of course, is that while the Trump Administration is trying to promote coal usage, its simultaneous promotion of the oil and gas industry works against coal.
#2: Promote Usage of Smart Metering by Utilities
A second way to counteract the Trump action is to encourage electric utilities to expand usage of smart meters. A smart meter can be remotely managed and can provide minute by minute information about electric usage. Smart meters provide advantages to customers, utilities, and to the environment. The advantages to customers include:
Far better data about usage

Useful data to help the customer adjust habits in a way that will reduce monthly bills

Reduce blackouts.
Smart meters are also very advantageous to the electric utility. They:
Eliminate the need to send an army of people out to read meters

Provide more timely information about the electric grid

Permit the utility to utilize resources more efficiently

Permit dynamic pricing (i.e., different prices depending on the time of day)

Help avoid the cost of building new plants.
They're also beneficial to the environment because they reduce the need for new plants.
Unquestionably, smart metering is something that's advantageous to consumers and the utility companies, themselves, and adoption should lead to reduced carbon emissions. The even better news is that adoption has nothing to do with the Federal government. The Trump action has zero impact on this.
If smart metering is something that benefits companies and consumers alike, how do you encourage its adoption? Get state utility commissions to provide incentives to companies to adopt the technology.
#3: Get Investors to Pressure Electric Utilities to Switch Fuel Sources
In the past few years, more and more companies have come under pressure from various advocacy groups, including investors, to change policies. Climate change is an emerging area in that regard. Interestingly, the Norwegian Sovereign Wealth Fund has been pressuring American utility companies not to build coal plants. Why would this make any difference?
Norway has benefitted tremendously from drilling for North Sea oil. Unlike citizens of most other countries with large oil deposits, the Norwegian government wisely established as sovereign wealth fund using royalties from North Sea oil. The fund now has more than one trillion dollars in assets. Needless to say, the Norwegian Sovereign Wealth Fund is a force to be reckoned with in investment circles.
Those concerned about greenhouse gas emissions will be pleased to learn that the Norwegian fund has been pressuring American electric utilities not to build coal plants. Other investors and investor groups are doing the same. If enough investors do this, I'm confident that electric utilities won't be building many coal plants, if any, irrespective of Trump Administration policy. If your investors and customers pressure you to dump coal, doesn't matter much what the President thinks.
Are there many investor groups that could put pressure on electric utilities to avoid coal? I think there may be more than anyone realizes.
#4: Encourage Foreign Investors, Particularly Canadians, to Keep Buying US Utilities
Another unexpected approach is to encourage foreign companies, particularly Canadian ones, to purchase American electric utilities. There are a number of reasons why it's attractive for Canadian companies to buy American electric utility companies. In 2016 alone, three companies were purchased: Fortis bought ITC, Algonquin Power bought Empire District Electric, and Emera bought TECO. None of these were particularly large transactions, but I expect that those opposed to greenhouse gases ought to be cheering each one. The reason they should be happy is because Canadian companies appear concerned about greenhouse gases and don't want to invest in technologies such as coal. Once again, this is something that will work counter to the Trump policy of encouraging coal consumption.
#5: Get Utility Ratemakers to Provide Higher Rates of Return on Alternatives
The fifth strategy has the greatest potential to reduce greenhouse gas emissions from electric utilities. Let me explain the basis for this. Electric utilities are considered monopolies, and the price of electric service is normally set by state public utility ratemaking commissions. Such ratemaking is done by the states, as opposed to the Federal government. The rate that a utility may charge its customers is, generally speaking, governed by the following formula:
R/kwh = O + (V – D)*r
where R = the electric utility's revenue
kwh = total kilowatt hours
O = operating costs of the utility
V = amount of invested capital in the utility
D = depreciation on the invested capital
r = allowable rate of return
Ratemaking for commercial and industrial customers is a little more complicated, particularly because of "demand" charges, but this simple formula should convey the core of the process.
The allowable rate of return is determined by the public utility commission of each state. My idea is to encourage these commissions to provide differential rates of return based upon the type of investment. The idea is to offer the utility higher rates of return on more desirable forms of investment (e.g., wind and solar) and lower rates of return on less desirable forms of investment (e.g., coal). If electric utilities can earn higher rates of return on wind and solar and lower rates of return on coal, more than likely they will invest more in renewables and less in coal plants. Again, these decisions are made at the state level, not Federal.
Besides the fact that certain forms of energy are more desirable than others, is there any type of economic justification for this? I believe the economic rationale for differential rates of return is the hidden costs of greenhouse gases. Various estimates have been made of the cost of greenhouse gases. Some have calculated it as $ 37/ton whereas others say it could be as much as $ 220/ton. Let's assume, for the sake of argument, it's $ 100/ton. Let's further assume that an electric utility has the choice of building one plant that is renewable and the other which is coal. The two plants are projected to produce the same amount of electricity, but the coal plant will generate 10,000 tons of greenhouse gases/year. Based upon the imputed cost of the greenhouse gases, that represents $ 1,000,000 in costs related to the greenhouse gases. The state could encourage the company to build the renewables plant and split the $ 1.0 million in foregone cost of greenhouse gases, or $ 500,000. If the cost of the plant is $ 100 million, it could increase the rate of return on $ 100 million by 0.5% (i.e., 500,000/$ 100 million). The company and its shareholders would make the identical capital investment but would earn just that much more each year. Likewise, the general public would benefit from the reduction in greenhouse gases.
Thus, through the ratemaking process, the state could provide incentives to the company to invest in more efficient technologies by adjusting the allowable rate of return on the investment. Of course, some would object, saying that electric utility rates would go up. That's true, but I would make the argument that it would be a sign that consumers are paying the real cost of electricity generation. Up to now, they haven't paid the true cost because the costs of greenhouse gases have been ignored. Carbon taxes are a "no no", but a proxy for carbon taxes might be acceptable. Differential rates of return could serve as a proxy for a carbon tax.
None of these ideas ought to be considered a panacea. Instead, the point is to get everyone who is concerned about greenhouse gases to stop whining about what the Trump Administration has, or hasn't, done about emissions. In the long term – meaning every four years – the public can express its opinion about what the Administration is doing. In between, those concerned about things like greenhouse gases can, and should, use each problematic governmental decision as an opportunity to seek out an alternative.
Instead of whining about what "should have been", or "could have been", try to reframe the problem and consider it an opportunity to seek an unexpected perspective, and an unexpected answer.